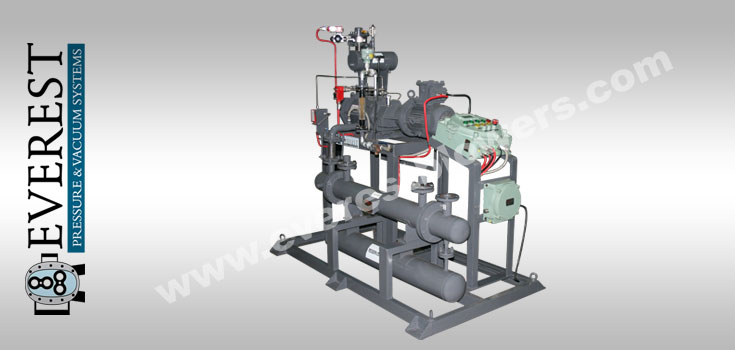 Everest has supplied wide variety of vacuum systems in various aromatics companies in various Distillation Processes like Reactor, Distillation Column (Fractional & Standard Distillation Column, Wiped Film, Thin Film Evaporators, Agitated Thin Film Evaporator, Packed Bed Column- Sulzer Packing). Over the years there's has been a shift in technology being used for creating vacuum in the aromatics industries. People have shifted over from steam and water based systems to dry & mechanical type systems due to the low operating cost and high efficiency of such vacuum systems.
There are various associated Advantages of Dry Systems over Steam and Water based systems which are elaborated here under.
Everest is the first indigenous organization to introduce 100% dry type screw vacuum pumps. These dry screw vacuum pumps due to the constructional design can achieve a standalone blank-off vacuum of the tune of 10-2 Torr. Apart from having advantages like-
No use of water/ steam.
No use of oil.
Maintenance free long term operations.
Instantaneous start-stop.
Consistent quality of vacuum.
High durability against corrosive solvents.
These pumps have a major advantage of 100% solvent recovery from the process. Any low boiling vapor that is difficult to control/ condense in the pre—condenser can pass through the twin screw design of everest dry vacuum pump and we can obtain 100% recovery of this solvent in the discharge condenser/ water cooled discharge silencer supplied along with the pump unit.
We are also glad to announce that Everest is the 1sst company to launch a pocket friendly, high performing "anti- corrosive series" of dry screw vacuum pumps. The cross linking and designing of this pump has been done keeping in mind the harsh processes of aromatics industries & has proven to be a strong horse when it comes to long term reliable performance. This anti-corrosive dry screw vacuum pump(Everest CX series) has been manufactured with special design changes in the internals making it fit for operation in harsh applications. Click here.
Everest vacuum division we consider ourselves as "Solution Providers" instead of " Equipment Suppliers". We have a standard series of vacuum systems known as "supervac" which is a combination of Dry Screw Vacuum Pump coupled with 1 or 2 or more Everest Mechanical Vacuum Booster in series depending upon the process and the application for which it is used. Everest has a wide variety of mechanical boosters starting from a capacity of 250 m3/hr going upt0 18,000 m3/hr.click here for individual booster details with over 10,000 successful installations of Everest Vacuum Boosters in various Chemical Industries, Everest is extremely confident of the quality and performance for smooth long term operations.
For many years the Aromatic Industry have been comfortable in using dry reciprocating piston vacuum pumps. Everest is also manufacturing very compact, reasonable cost- dry reciprocating pump + booster combination skid mounted systems for menthol crystal distillation.